Public Health
Neurological symptoms might arise from multiple causes. But does the virus even get into neurons?
Space
Creating a sustainable human presence beyond low-Earth orbit requires a clear-eyed view of the risks—and rewards—inherent in spaceflight
Medicine
Proponents of the trials say they can be run safely and help to identify effective vaccines, but others have questioned their value
Special Report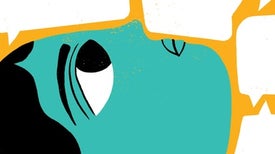 Behavior & Society
Viral lies, overwhelming uncertainty, and leadership that amplifies falsehoods and fear: no wonder we feel anguished by our information environment. During an election season of great consequence, what would make society less vulnerable to division?
Videos
Life's up and downs may seem as inevitable as gravity, but somehow 2020 feels worse than usual. Just as a thought experiment, what if this year actually did get so weird that it even ushered in a change in how gravity affects our material universe?...